April 1974: The Xerox 9200 duplicating system offered automatic document feeding and collating, reduction and double-sided copies, with the speed of two copies in a second.
Did you know? The design name of the Xerox 9200 was Ardrii
Xerox 9200 operating panel, and descriptions of the different functions.
Reduction: there where three preset reductions one could choose from - 98%, 74% and 65%
Fatures
Auxiliary paper tray - this was used for enabling the 500 sheet paper tray. An example of this could be when the machine was producing a large single sided series with copies, and the main paper tray was almost empty. You could then load the auxiliary paper tray with paper, push the button "AUXILIARY PAPER TRAY". The machine then started to feed paper from the aux paper tray, and you could then load paper in the main paper tray. By doing this, there was no stop in the production.
Light original -
Colored background -
Document handler
Job recovery - this was used to recover a job after paper/document crash
Multiple -
Single -
Sorter
Job supplement - if someone needed a few copies, and the machine was in the middle of a large series, you could put the job on hold and let others make a few copies.
Sets - for sort and make sets of a document containing several pages, one could enable this function.
Stacks - lets say you should make 3000 copies of one single side. Instead of have the copies come out of the main output tray (which could hold up to 250 sheets), you could stack the copies in the sorter.
THE XEROGRAPHIC PROCESS IN THE 9200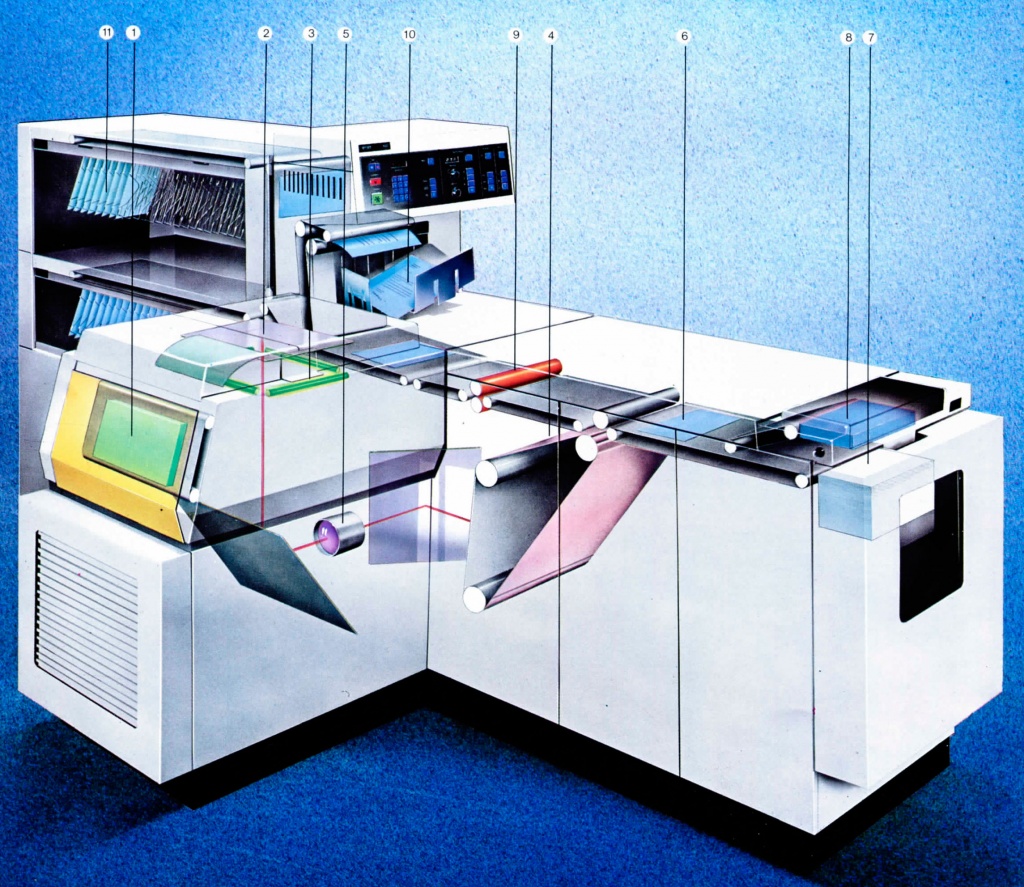 The automatic document handler (1) holds up to fifty documents for automatic feeding and scanning. Alternatively, single originals can be placed on the flat glass platen (2). After exposure to the four flash tubes (3), the image is directed onto the xerographic belt (4), via the zoom lens (5), which can adjust the image size from 61.5% to up to 102% of the original size. The xerographic image is transferred to the paper, which has been fed along the straight paper path (6) from either the main paper tray (7) or the auxiliary tray (8). The image is fused (9) permanently to the paper and the finished prints then collect either in the receiving tray (10) or are automatically collated into sets or stacks by the 'limitless' on-line sorter (11).
SPECIFICATIONS
Copy speed (per minute)
120. First copy after 8 seconds.
Paper tray
Main tray: 2500 sheets
Top tray: 400 sheets
Output tray capacity
500 sheets
Finisher/sorter
Staple function
Reduction/zoom
98%, 74% or 65% reduction
Document handler
Automatic document handler with 50 sheets capacity
Dimension and weight
Overall length
350 (cm) / 138 (inches)
Width
147 (cm) / 58 (inches)
Height
144 (cm) / 57 (inches)
Weight
1115 (K grams) / 2460 (Lbs)
Floor space requirements
3 x 3 (meters) / 11 x 8 (feet)
Do you have any more information about this model, or have brochures / pictures? Please leave a reply in the form below, or send an email to xeroxnostalgia@outlook.com