From Xerox Annual Report 1970:
In the United States, Xerox corporation owns some 1,700 acres of land. The 1,OOO-acre Webster complex outside Rochester, New York, is the largest single holding. Other large real estate holdings are in California, where Xerox own approximately 450 acres. Included in the nearly 400 buildings we occupy in the United States are a million square feet of manufacturing space and three modern research facilities in Webster, a 30-story office building in Rochester and a temporary corporate headquarters in Stamford, Connecticut.
Two major buildings, with a combined cost estimated at over $20 million, are currently under construction in Webster, New York, the principal manufacturing, engineering and research center of our Business Products Group. The larger addition will be a 750,OOO-square-foot machine-manufacturing building. It will provide a significant increase in manufacturing space and eventual employment for 2,500 people. The second addition will provide much needed warehous'e space. In addition, construction is under way on a new building which will house our centralized computer operations. Expanded research and development facilities are also in progress.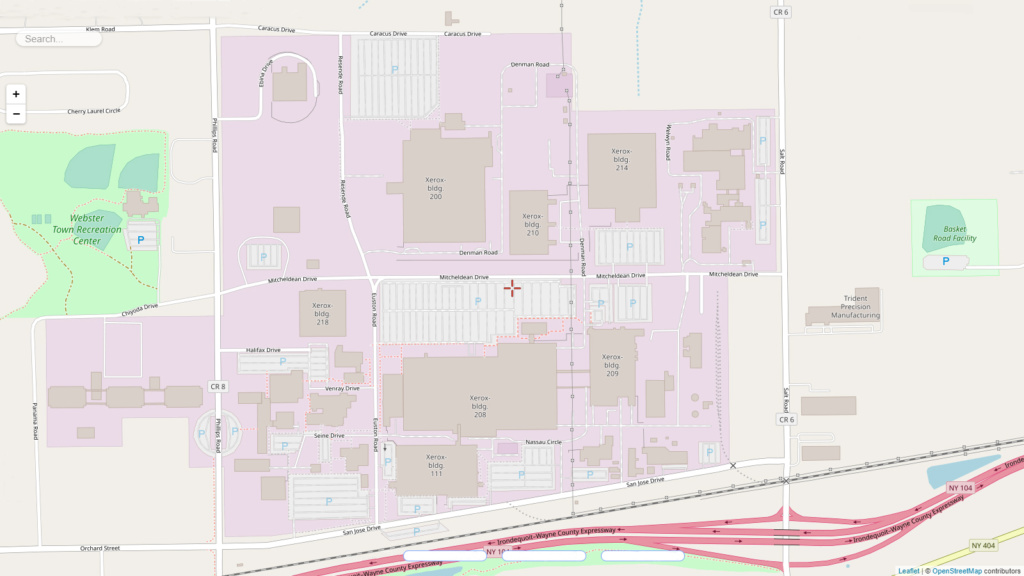 Looking at the name of the roads around Xerox Campus, several of the names are associated with manufacturing plants or Xerox offices around the world:
Mitcheldean Drive - Mitcheldean is a town in the east of the Forest of Dean, Gloucestershire, England and Rank Xerox had a major manufacturing plant there
Welwyn Road - Rank Xerox research and manufacturing facility in Welwyn Garden City outside of London, England
Euston Road - Rank Xerox main office was located at Euston Road in England
Venray Drive - got it name after Rank Xerox manufacturing plant in Venray in the Netherlands
Halifax Drive - Xerox office located in Halifax, Nova Scotia, Canada
Resende Road - Xerox manufacturing plant located in Resende, Brazil
Nassau Circle - Xerox office located at Nassau, Bahamas
Orchard Street - factory in Rochester, N.Y, where the Xerox 914 was first assembled