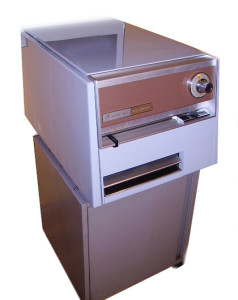 Created: February 8, 2015 5:57 pm by Admin
Modified: June 29, 2016 12:47 pm by Admin
In October 1963 started the production of the Xerox 813 desktop copier, which was a improved version of Xerox 813. To make a copy, you entered how many copies you wanted, and then fed the original into the machine. The original came out in a slot in front of the machine, and the copies came out of a slot right beneath where the original came out. Obviously one couldn't make copies from a book with this machine.
The paper path inside the copier was quite simple. When the paper left the paper tray, a "gripper bar" with two clips opened and grabbed the paper and transported it under the drum, and through the fuser. The fuser unit was not a heat roller, but a heater lamp, and the paper passed under this heating lamp, in order for the toner to melt into the paper.
This YouTube clip shows the copier in action https://www.youtube.com/watch?v=45Jic_1yeW0
Here are an ad for the Xerox 813
If anyone has more information about this model, or have brochures / pictures, please leave a reply in the form below, or send an email to xeroxnostalgia@outlook.com